This post may contain affiliate links, meaning if you buy or book through one of these links, I may earn a small commission .
Visiting Cleveland soon and hoping to take some cool photos to add to your memory book? Having lived in the Cleveland area most of my life, I've always been eager to show how beautiful our city is, and have plenty of great photo spots to recommend.
Cleveland tends to get a bad rap in the media, although I've never quite understood why it continues after all these years of positive changes. I suppose at one time there was a reason for being nicknamed things like "mistake on the lake" and such. However, today the truth is that Cleveland is a lovely city, complete with beautiful lake views and plenty of interesting spots to explore.
I am excited for you to come see for yourself why Clevelanders take so much pride in their city. That said, if you are hunting for the most photogenic spots in "The Land", look no further. I've compiled a list of the top photo spots in Cleveland that will be perfect for anything from family, wedding, to artistic 'gram type shots.
---
10 Top Photo Spots in Cleveland, OH
1. Rock & Roll Hall of Fame
You know it, you love it, but have you ever visited it? Most Clevelanders have not stepped foot in the Rock & Roll Hall of Fame, interestingly enough. The good news is that you do not even have to enter the Rock Hall to get the perfect picture in front of it. Which is great because we'd all much rather be checking out the area's newest brewery or restaurant, wouldn't we?
2. Cleveland Script Signs
Thanks to Cleveland hosting the Republican National Convention a few years ago, our city was beautified and fun touches like these Cleveland script signs were added. These signs were strategically placed throughout the city to underscore some of the most iconic views of the Cleveland skyline. You can find the most popular ones in these spots:
Tremont (my personal fav)
E. 9th Pier
Edgewater Park
The Flats
3. The Flats
The east bank of The Flats is a very popular neighborhood that has recently been revived in Cleveland. It is especially popular in summer, where you can stroll along the Cuyahoga River while taking in iconic views of the bridges overhead. There are also many good bars in restaurants in the area, such as Lindey's Lake House and Alley Cat Oyster Bar, where you can eat right on the water.
4. Ohio City Street Art
Any big street art fans out there? If so, you'll love Cleveland, as street art continues to pop up left and right all over the city. One of the best places to go street art hunting is in Cleveland's Ohio City neighborhood, particularly on West 25th street.
5. West Side Market
Speaking of West 25th, you also must stop into Cleveland's West Side Market during your visit. This historical building has become a landmark in Cleveland, both for its history and striking appearance. There has been a public market here since 1912, and today over 100 vendors continue to sell their products at West Side Market.
6. The Arcade
The Arcade is my favorite historical building in Cleveland for a few reasons. The first one is how gorgeous the interior of it is. Many couples book The Arcade for wedding receptions, and we even took some engagement photos here!
Another reason why I love The Arcade is because it is a hidden gem. I'm not sure most Clevelanders are even aware of it, and its mostly empty store fronts help to keep people away.
Tip
Visit The Arcade when it is decorated for Christmas to truly experience this place in all its glory.
7. Playhouse Square Chandelier
Playhouse Square has been part of Cleveland's cultural scene for a long time, but the chandelier was newly added within the past five years. This addition is just what Playhouse Square needed for a display of grandeur that truly reflects what an amazing theater district Cleveland has. If you didn't believe it before, maybe this spectacular chandelier lighting up Euclid Avenue will convince you!
8. E 4th Street
East 4th is one of the most famous streets in Cleveland. It's the spot that major news networks tend to show on TV during sporting events, and does happen to feature some of the city's best restaurants as well. In fact, Celebrity Chef Michael Symon has a restaurant on E 4th: Mabel's BBQ.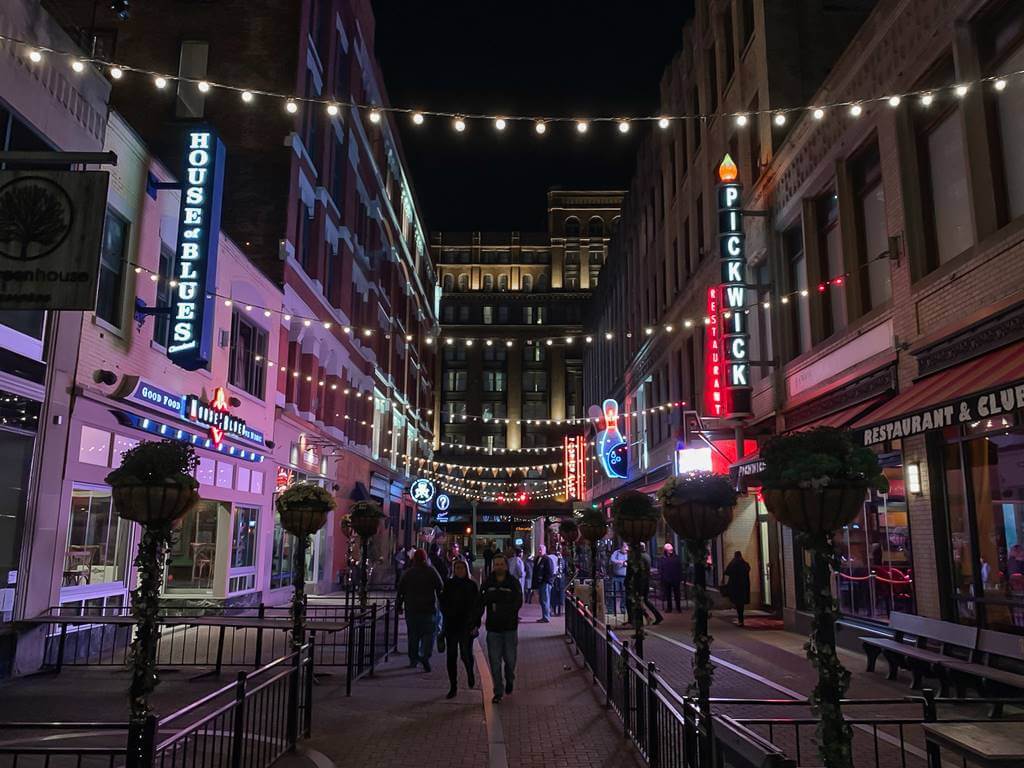 9. Lakewood Park
Lakewood Park is about 15 minutes outside downtown Cleveland, but is worth the drive to get one of the best views of the city. This park is not very big, but offers some great walking paths that lead down along Lake Erie. Lakewood Park is the perfect outdoor space to enjoy on a nice day, especially with such awesome views.
10. A Christmas Story House
Yes, this is the one you know from the movie, A Christmas Story. Although the movie takes place in Indiana, it was filmed in Cleveland, and this was indeed the set of Ralphie's family home. As you can see below, it is quite a hit around Christmas time.
• • •
I hope I have shown you that Cleveland truly is a beautiful city with these amazing photo spots. It actually took me years to gather all of these photos, simply by taking my time as my husband and I gradually explore new places. This list will make it easier for you to discover these gems sooner, so you can find the hidden beauty that Cleveland has to offer, even within a short visit.