This post may contain affiliate links, meaning I receive a small commission if you click, at no additional cost to you.
Headed to St. Thomas for a break from the cold, life, or what have you in gorgeous tropical surroundings? As it's part of the US Virgin Islands, many Americans fly passport free to this sunny Caribbean island for their vacations. While it helps that various U.S. cities fly direct to the island, it's the dreamy St. Thomas beaches the keep the people coming in droves.
As there are numerous pretty beaches on St. Thomas, it can be hard to determine which ones are worth your while. With various types of surroundings, shade offerings, calmness, and amenities, no one beach is the same as the next. Therefore, you'll want to make sure to pick the ones that are best suited to your tastes.
Below, I am highlighting the top five beaches on St. Thomas, and breaking down what makes each one unique. That way you can decide which is the best beach for you, while also knowing that you can't really lose with any of these.
---
5 Best St. Thomas USVI Beaches
Without further ado, here are the top five St. Thomas beaches that belong in your vacation itinerary.
Magens Bay Beach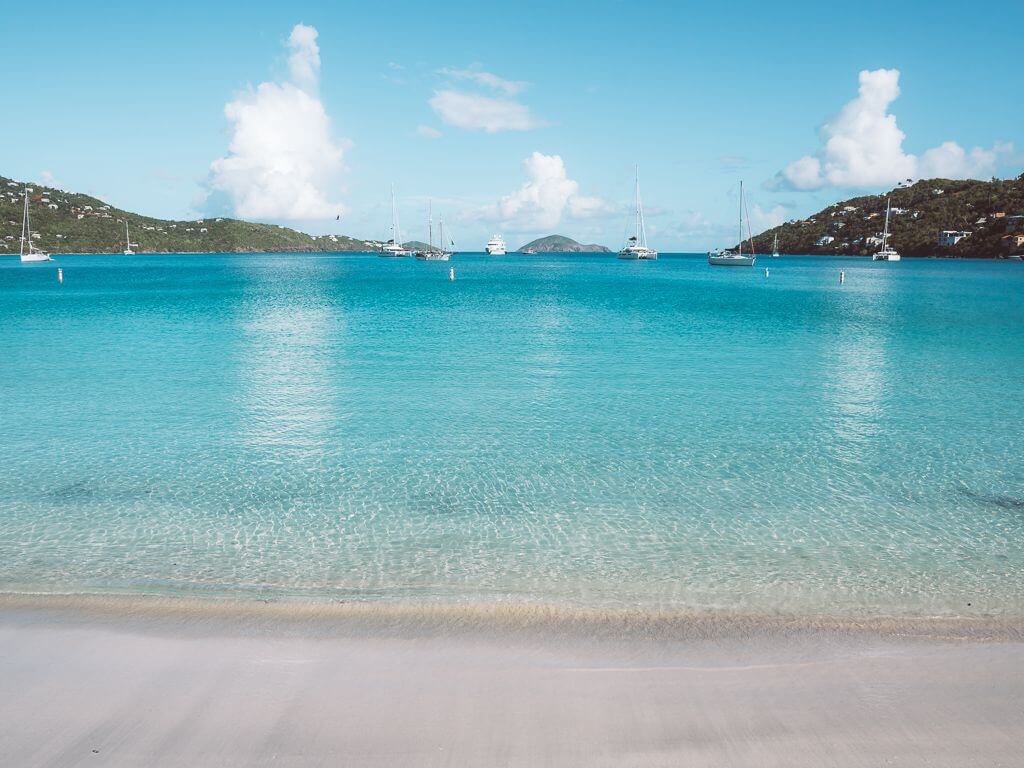 Of all the beaches on St. Thomas, Magens Bay is the star. This super protected bay has some of the gentlest, crystal clear waters you'll see in the U.S. Virgin Islands. Each side is flanked by lush, hilly terrain dotted with villas, and there are usually many anchored boats in view ahead.
Magens Bay is quite lengthy, which makes it perfect for leisurely walks along the water. This beach is also lined with planted palm trees, and there are plenty of shade spots to choose from.
Some great perks include snacks and drinks available for purchase, and beach rentals that include chairs and kayak/stand-up paddle boards. Entry to the beach is $5, with an additional $2 charge to park a vehicle.
However, I must warn you that Magens Bay is very popular with cruise ship passengers, and St. Thomas has a very busy cruise port. Approximately 5,000 people visit this beach on a given day during peak season. This unfortunately can cause the otherwise translucent water to become foggy with sunscreen.
If you wish to visit Magens Bay without the crowds, arrive early or plan your trip in summer or fall when there is less cruise traffic
---
Lindquist Beach
Lindquist Beach is located in Smith Bay, which is a twenty-one acre protected park. This big semi circle of a beach has wonderful little shade sections, with privacy provided by trees on either side. I loved having my own little nook on the far east end, where I could truly relax away from crowds and listen to my beach tunes.
Lindquist Beach is not as long as Magens and is rockier when entering the water, especially towards the eastern end. The beach is also a bit narrow, and not very conducive for taking walks. However, the water is incredibly gentle and clear, with just small, pleasant waves rolling in.
The scenery includes a couple resorts to the west, and nothing but nature and distant cays to the right. While Lindquist is one of the top beaches on St. Thomas, it was not nearly as busy as Magens Bay during our visit. The parking lot wasn't full when we arrived at noon, which is typically prime beach time.
Like Magens Bay, admission to Lindquist Beach is $5, with an additional $2 fee if parking a vehicle.
---
Coki Beach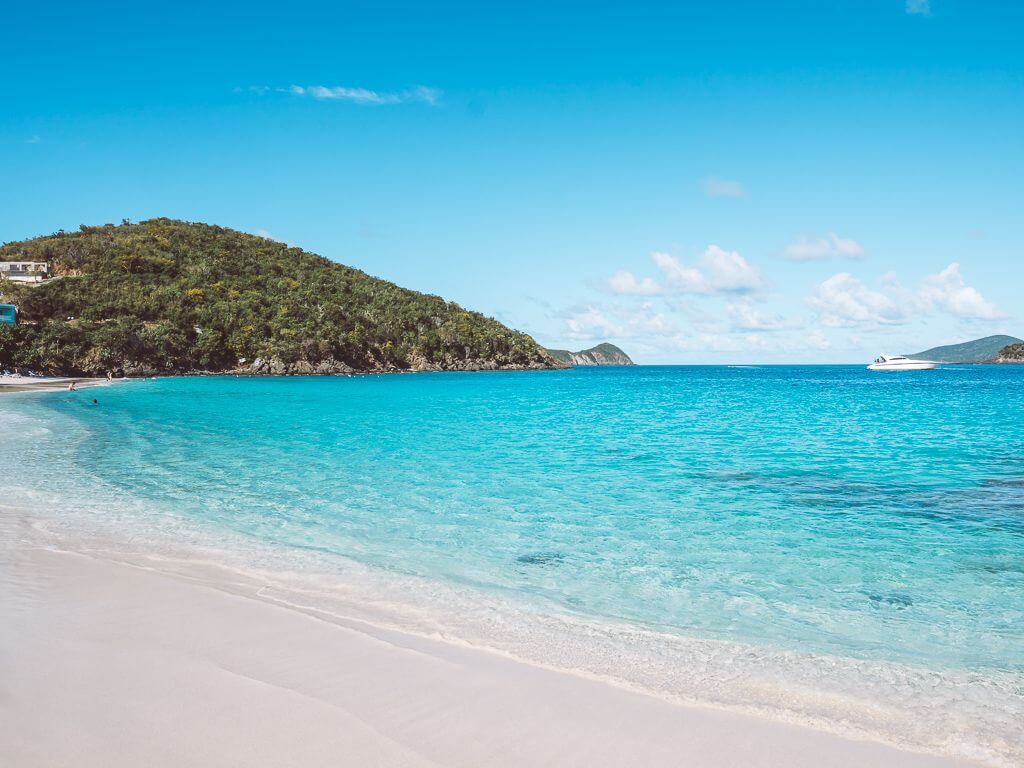 Coki beach is stunning, and is a hit with snorkelers and scuba divers. The scenery is so beautiful, with some of the brightest blue, ultracalm water I saw in St. Thomas. Waves were practically nonexistent.
The beach is wide and very sandy, but there isn't a whole lot of shade to be found. However, there are loads of amenities available, including chair, scuba, SUP and other rentals. There is also food and drink available for purchase right on the beach.
These sought-after amenities lure lots of people, and often cause this small beach to get crowded. This is helped by the fact that, unlike Magens and Lindquist, there is not a fee to enter Coki Beach.
Paid parking is available near the beach entrance for $5. However, we were able to find a free roadside spot just a small distance from the paid lot.
Travel Savvy Tip
The vendors at Coki Beach can be aggressive. We were actually solicited twice to purchase rental chairs upon arrival, which we declined. Shortly after, a vendor set up four rental chairs and two umbrellas for another group right in front of us, blocking our view.
I should also mention that Coki is a popular weed smoking spot, which means you'll likely smell it around you.
I hope this doesn't scare you, as I still think this gorgeous beach is worth a visit. Just keep these notes in mind so there aren't any surprises.
---
Sapphire Beach
Sapphire Beach is located at the Sapphire Bay Resort, and the many shades of turquoise in the water really do make you think of gemstones. This beach is small, but wide enough for modest walks in the sand. The water is not as waveless as some of the other beaches, but is definitely not rough by any means.
As there is a resort lining this beach, it's not the most secluded environment, but it is no less beautiful. If you look east down the beach, you can see St. John and other islands dotting the distance. Boats will come in and out of view as well, likely having been docked at Sapphire Bay Marina.
I especially loved the scenery at sunrise, when the sun was creeping steadily out from behind St. John, turning the sky pink and illuminating everything in gold.
Finally, Sapphire Beach Bar, located right on the beach, is awesome for chilling with a drink or grabbing some lunch. We loved their fish tacos and fries, and we don't say that about just any fries. There are also rentals available for purchase on this beach, including chairs and watersports.
---
Secret Harbor Beach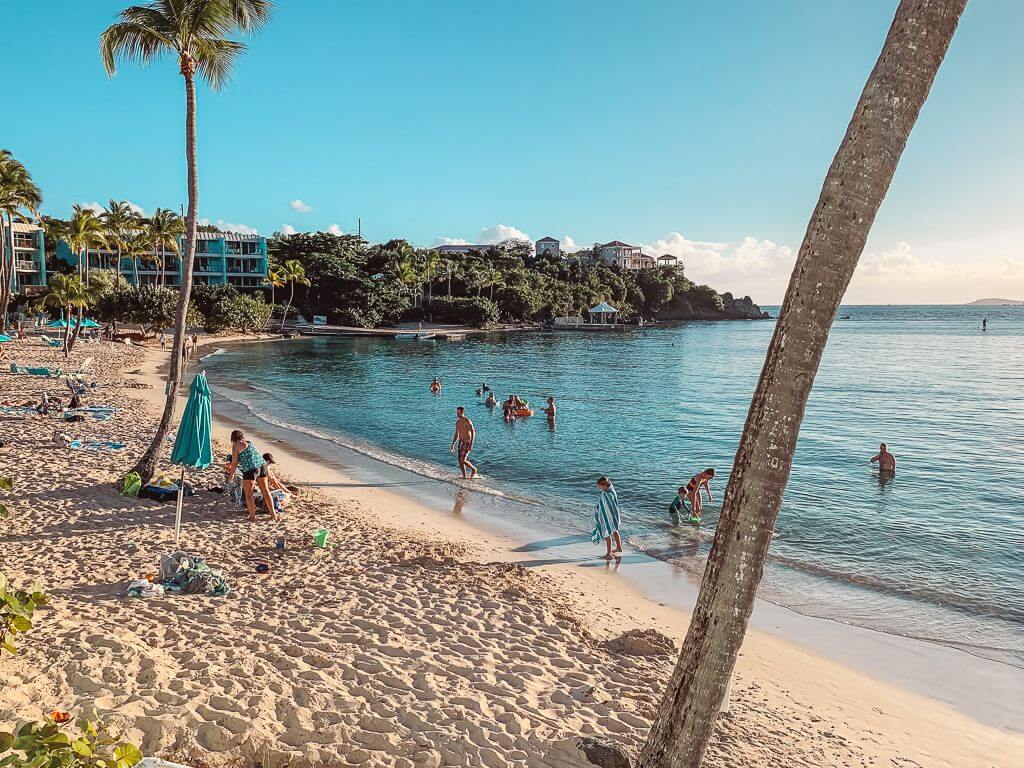 While Secret Harbor may not seem very secluded, as Secret Harbour Beach Resort sits right upon it, it still feels like very tranquil surroundings. The beach is not very big, but the water is quite calm and protected. Do note, though, that it can be a little rocky in spots for swimmers.
Amenities at this beach feature chair, kayak, and SUP rentals, and free parking can be found a short walk away from the resort. You can even grab a midday bite from The Patio at Sunset Grille, which looks out onto the beach.
Secret Harbor Beach particularly shines at sunset. There is a wonderful, unobstructed view of the sun setting over the Caribbean Sea, which casts everything in a beautiful orange glow. Even if you just visit this beach in the evening for the ambiance during dinner at Sunset Grille, it is totally worth your while.
---
Reef Safe Sunscreen
Most popular sunscreen brands are now outlawed in the U.S. Virgin Islands. Unfortunately, they tend to contain harmful chemicals that cause bleaching and overall damage to the surrounding coral reefs.
You can choose to pack reef safe sunscreen (we like this one) or buy it right on St. Thomas. I will admit, these varieties can be thick and a pain to rub in, but are totally worth it to protect those beautiful island ecosystems!
---
Stays Near St. Thomas Beaches
For jaw-dropping views of Magens Bay, this cozy Airbnb delivers artistic vibes in colorful, inspirational surroundings. We loved sipping coffee on the balcony while taking in the incredible shades of blue sea down below.
This condo is a short walk from Sapphire Beach, which makes it ideal for early morning walks along the water. I loved waking up to the lovely view of boats parked in Sapphire Harbor, as well as the shadow of St. John in the distance.
• • •
While St. Thomas is full of idyllic beaches, every trip should include the five I've listed above. Their gentle waters, peaceful surroundings, and mesmerizing views will give you everything you need for the perfect escape to paradise.