This post may contain affiliate links, meaning I receive a small commission if you click, at no additional cost to you.
Do you always create the perfect playlist for the beach, or perhaps every vacation for that matter? If you are anything like me, music is always incorporated into your travels.
I especially love making a playlist when I go to the beach, which I'll continue to listen to even if I'm home. You'd welcome some tropical tunes too if you experienced a northeast Ohio winter!
If you are planning a relaxing getaway, I have listed 100 songs below that would be perfect on any beach playlist. These songs range from upbeat, light, carefree and perfectly mellow vibes. They are just what you need to achieve the ultimate state of relaxation, and feel like you've truly escaped to paradise.
---
Start building your beach playlist:
Below, I have compiled a list of the top 100 songs that I always include on my beach playlist. They are organized by category, and there is something for everyone. You can also listen to this full playlist in Spotify here. Enjoy!
Oldie Favorites
I have a special place in my heart for music from decades past. There are some songs that, no matter how old they are, continue to sound so good on the beach. Here are my favorite old school picks that never cease to take me to my happy place.
1. Africa – Toto
2. All Night Long – Lionel Richie
3. Brandy – Looking Glass
4. Brown Eyed Girl – Jimmy Buffett
5. Cruisin' – Smokey Robinson
6. Dreams – Fleetwood Mac
7. Drift Away – Dobie Gray
8. Easy – The Commodores
9. Free Fallin' – Tom Petty
10. Hotel California – The Eagles
11. Margaritaville – Jimmy Buffett
12. Message In A Bottle – The Police
13. Mrs. Robinson – Simon & Garfunkel
14. Ooh La La – Faces
15. Red Red Wine – UB40
16. Roxanne – The Police
17. (Sittin' On) the Dock of the Bay – Otis Redding
18. Sweet Home Alabama – Lynyrd Skynyrd
19. Take It Easy – The Eagles
20. The Joker – Steve Miller Band
21. Under the Boardwalk – The Drifters
22. Wouldn't It Be Nice – The Beach Boys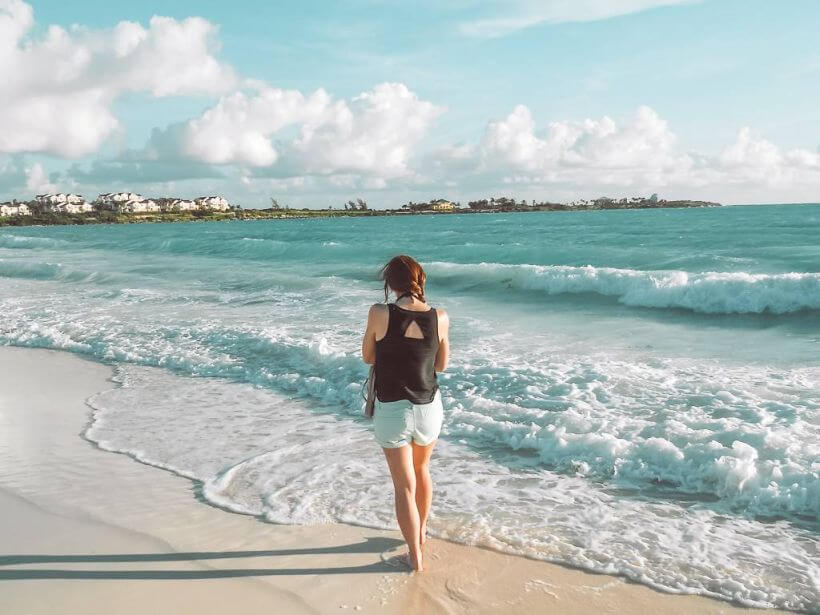 ---
Beachy Pop
Many pop songs bring reggae and Latin vibes, which make them perfect for a fun beach day. They also tend to come and go like fads, so I update this section often. That said, I do have a few favorites that have been making my list for years.
23. Better – Khalid
24. BICHOTA – KAROL G
25. Cheerleader – OMI
26. Cheers (Drink to That) – Rihanna
27. Dakiti – Bad Bunny, Jhay Cortez
28. Despacito – Luis Fonsi (feat. Daddy Yankee)
29. Don't Matter – Akon
30. Feels – Calvin Harris
31. Girl From Rio – Anitta
32. Girl Like Me – Black Eyed Peas, Shakira
33. If It's Lovin' That You Want – Rihanna
34. I'm Yours – Jason Mraz
35. July – Noah Cyrus feat. Leon Bridges
36. MIA (ft. Drake) – Bad Bunny
37. Peaches(ft. Daniel Caesar, Giveon) – Justin Bieber
38. telepatía – Kali Uchis
39. Waves – Robin Schulz Radio Edit – Mr. Probz
40. We're Good – Dua Lipa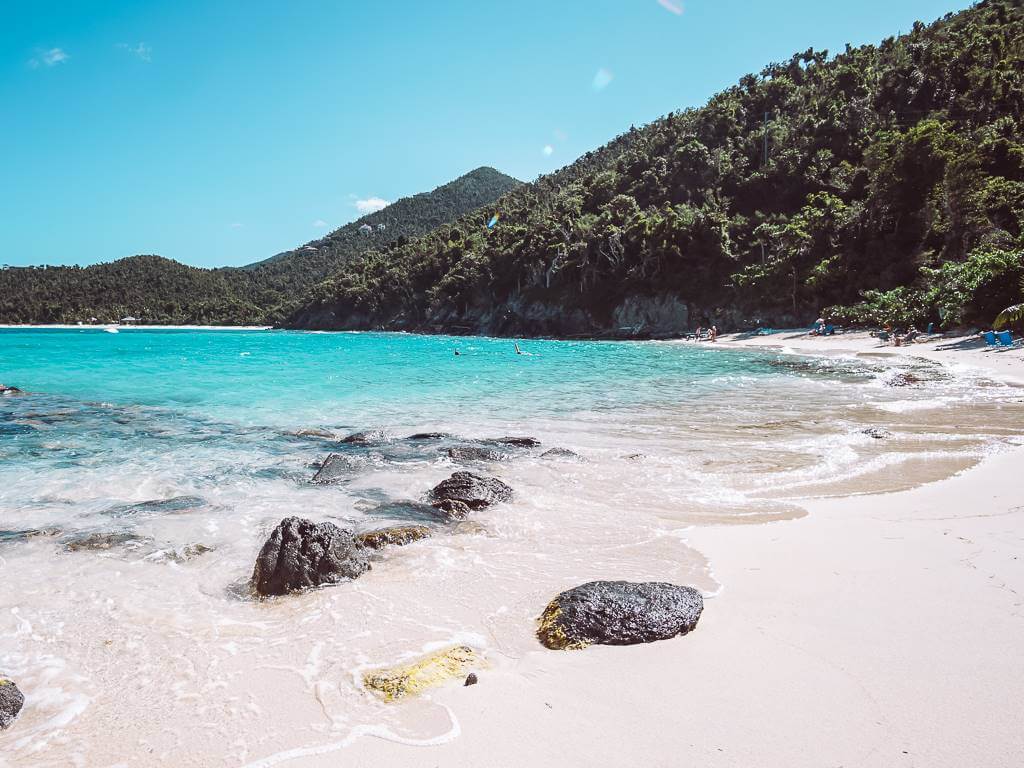 ---
Reggae
Every beach playlist needs a touch of reggae to bring those feel good vibes. Nothing takes you to the gentle waters of the Caribbean quite like a good island rhythm.
Obviously, I've included a hefty amount of Bob Marley, although he could almost have his own category. No tropical playlist would ever be complete without his songs, and I never feel like I'm on vacation until Bob Marley starts playing. The below songs are best consumed with rum punch.
41. Buffalo Soldier – Bob Marley & The Wailers
42. Could You Be Loved – Bob Marley & The Wailers
43. I'm Still in Love with You (feat. Sasha) – Sean Paul
44. Is This Love – Bob Marley & The Wailers
45. Jamming – Bob Marley & The Wailers
46. No Letting Go – Wayne Wonder
47. One Love – Bob Marley & The Wailers
48. Three Little Birds – Bob Marley & The Wailers
49. Turn Me On – Kevin Lyttle
50. Waiting in Vain – Bob Marley & The Wailers
51. You Don't Love Me (No, No, No) – Dawn Penn
Travel Savvy Tip
I like to make a playlist on my phone, and then play it through a waterproof bluetooth speaker on the beach. They're easy to throw into a beach bag, and the sound quality is so much better!
---
Rock & Alt Rock
There is a place for rock on every beach playlist. First of all, there are many bands that have a reggae sound, such as Sublime and No Doubt. Then you have bands with a more mellow style, which is just as perfect for laying out near the water.
The below songs are many of my go-to's, which find themselves back on my beach playlist year after year.
52. All For You – Sister Hazel
53. Amber – 311
54. Can't Stop – Red Hot Chili Peppers
55. Clocks – Coldplay (Rhythms De Mundo album)
56. Dashboard – Modest Mouse
57. Flake – Jack Johnson
58. Float On – Modest Mouse
59. Island in the Sun – Weezer
60. Jackie and Wilson – Hozier
61. Lay Me Down (feat. Rome) – Dirty Heads, Steve Fox, The Dirty Heads, Stan Frazier & Roman Ramirez
62. Love Song – 311
63. Only Wanna Be With You – Hootie & The Blowfish
64. Riptide – Vance Joy
65. Santa Monica – Everclear
66. Santeria – Sublime
67. Semi-Charmed Life – Third Eye Blind
68. Sit Next to Me – Foster the People
69. Someday – Sugar Ray
70. Someone New – Hozier
71. Stolen Dance – Milky Chance
72. Two Princes – Spin Doctors
73. Underneath It All (feat. Lady Saw) – No Doubt
74. Walking on a Dream – Empire of the Sun
75. When It's Over – Sugar Ray
---
Country
Country and hip-hop on the same list may seem a bit unconventional, but I'm going with it. Admittedly, I am not the biggest country listener. However, I've been exposing myself to it more and more lately, and have begun to incorporate it on my playlists.
Country music fans: I've been listening to your suggestions, and have expanded the list this year. I can't believe I never listed a Kenny Chesney song before this year. After all, he even has a home on my favorite island, St. John in the US Virgin Islands!
76. Chicken Fried – Zac Brown Band
77. Cruise (Remix, ft. Nelly) – Florida Georgia Line
78. Daddy Lessons – Beyonce
79. It's Five O'Clock Somewhere (ft. Jimmy Buffett) – Alan Jackson
80. Knee Deep (ft. Jimmy Buffett) – Zac Brown Band
81. No Shoes, No Shirt, No Problems – Kenny Chesney
82. Pirate Flag – Kenny Chesney
83. Slow Burn – Kacey Musgraves
84. Summertime – Kenny Chesney
85. Tennessee Whiskey – Chris Stapleton
86. When the Sun Goes Down – Kenny Chesney & Uncle Kracker
---
Hip-Hop
Hip-hop often incorporates island beats, and there are actually many songs in this genre with great tropical vibes. I never make a beach playlist that doesn't include at least some hip-hop. These songs are not always the most mellow, and probably not the greatest for relaxation. However, they are very fun poolside, or while tossing a football in the sand.
87. American Boy (feat. Kanye West) – Estelle
88. Controlla – Drake
89. Guatemala – Rae Sremmurd
90. Miami – Will Smith
91. One Dance (feat. WizKid, Kyla) – Drake
92. Ready of Not – Fugees
93. Sunflower – Post Malone & Swae Lee
94. Unforgettable (feat. Swae Lee) – French Montana
---
Everything Else
Last but certainly not least – the rest of the songs I always bring to the beach. Most of these remainders are singer/songwriter types that didn't clearly fit under the above categories. Some of these mellow tunes are my absolute favorites, and maybe they'll be yours too!
95. Beyond – Leon Bridges
96. Budapest – George Ezra
97. Give Me One Reason – Tracy Chapman
98. Over the Rainbow – Israel Kamakawiwo'ole
99. Unaware – Allen Stone
100. Waterfalls – TLC
• • •
Now all you need is some sunscreen and you're ready to go! What songs are always on your beach playlist? Share below!