This post may contain affiliate links, meaning I receive a small commission if you click, at no additional cost to you.
You would think staying on St. John, the second smallest of the USVI's, would mean sacrificing the availability of good food. Well, that is definitely not the case, as I can attest to gaining weight from the likes of burgers and key lime pie every time I visit. In fact, many of the best restaurants in St. John are some of my favorites in the entire USVI food scene.
While there are plenty of places to eat on St. John, they are not all equally delicious. After years of visits, I have a decent grasp on what's worth your time and what you can skip. Today I'm here to help you narrow down the best restaurants in St. John USVI, since no one wants bad food putting a damper on their trip. Let me see if I can talk about these places without getting hungry.
---
Best Restaurants in St. John USVI: The Ultimate Guide
4 Tips for Visiting St. John Restaurants
When dining in the islands, it's important to manage your expectations, as things tend to run a bit differently. Here are some St. John restaurant tips to help you have the best experience, so you don't end up frustrated and hangry.
Expect Slower Service Than You're Used To: Even at the best restaurants in St. John USVI, service tends to be a bit slower overall. This is totally normal for the Caribbean; I mean, there's a reason they call it being "on island time". That said, this issue has been exacerbated by the labor shortages resulting from the hurricanes and pandemic, so please try to be patient!
High Prices: Dining in the islands is always more expensive, since most ingredients need to be imported. This has only gotten worse since the pandemic, as prices for goods worldwide seem higher across the board. Therefore, be prepared to get sticker shock at times.
Make Reservations When Possible: It's always a good idea to call ahead to secure a table at the best St. John restaurants. This is especially true for popular places like ZoZo's, Morgan's Mango, and Extra Virgin Bistro.
Dine in the Early Evening Hours: St. John is a bit of a sleepy island, and many restaurants close as early as 9:00 pm. You may find exceptions in Cruz Bay, but in Coral Bay this is generally the case. This means you'll want to head out for dinner around 6 or 7 pm. Additionally, as the island has limited resources, St. John restaurants often run out of dishes as the night goes on. Arriving earlier in the evening helps to avoid this situation.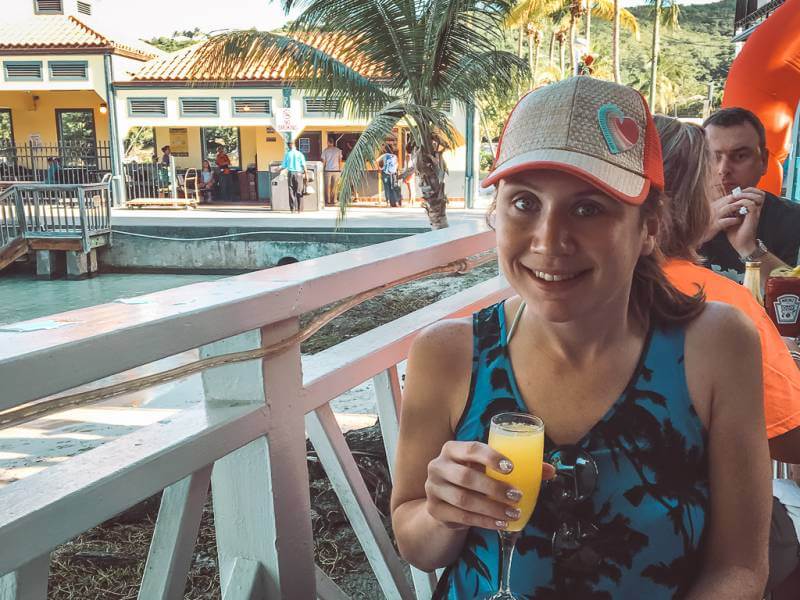 ---
Restaurants in Coral Bay
Skinny Legs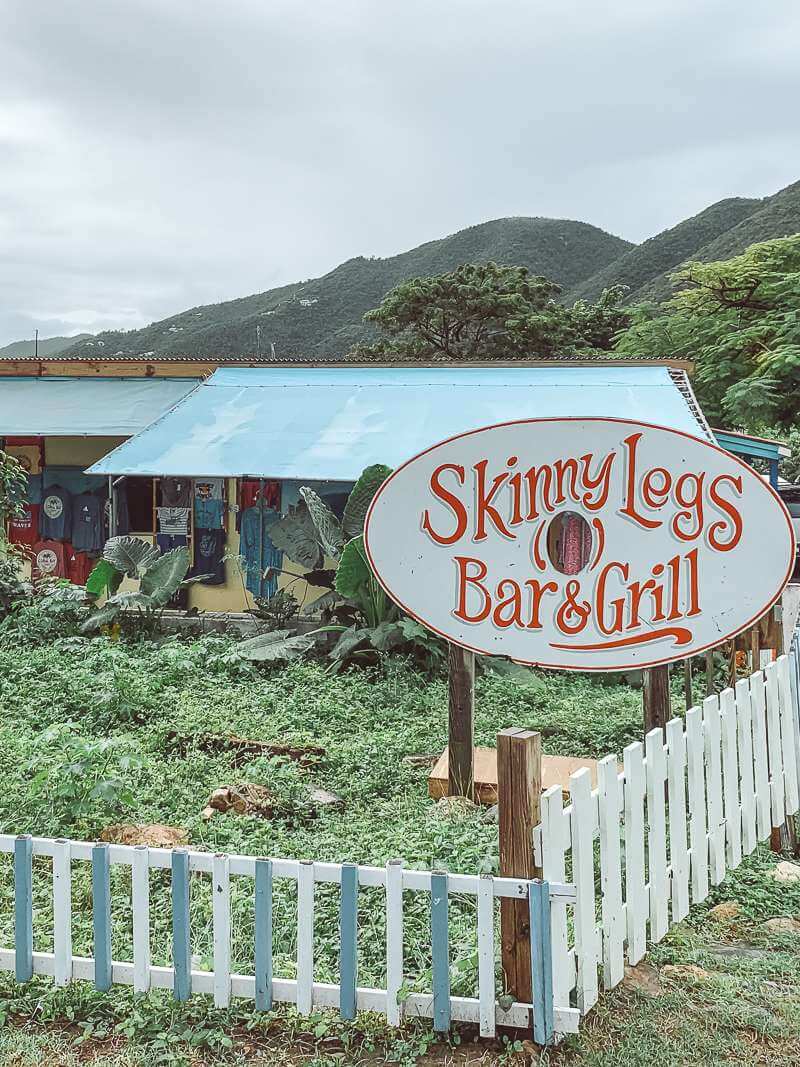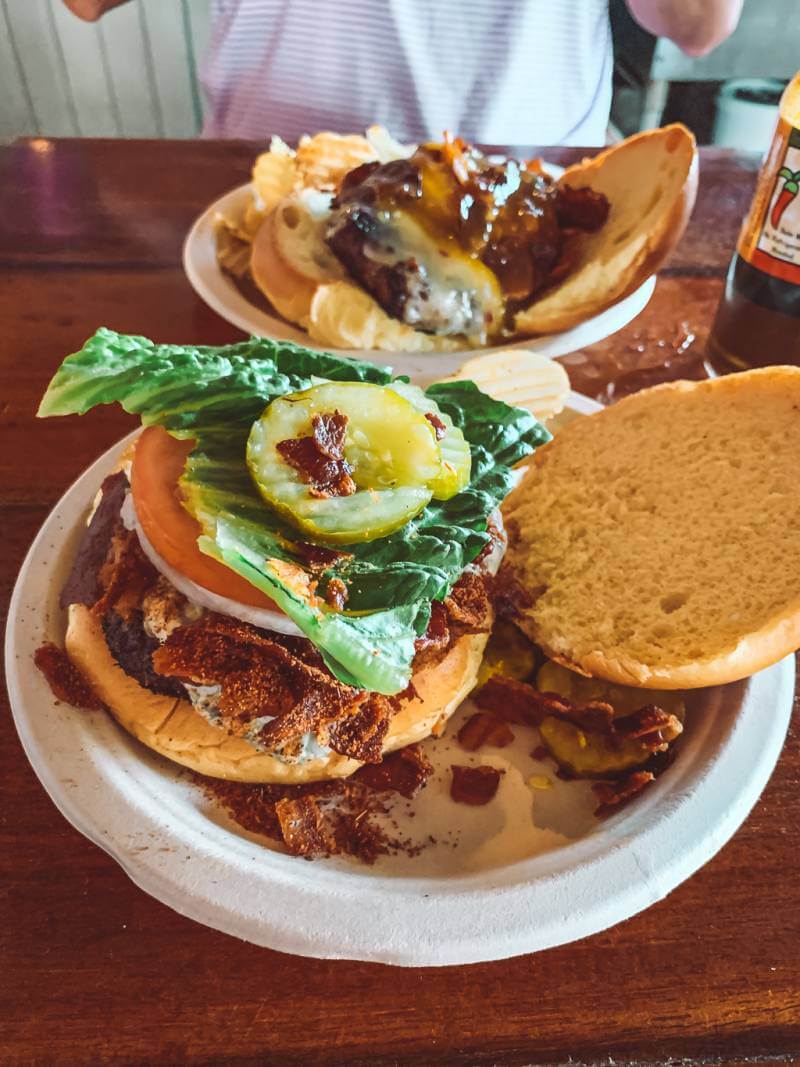 For me, Skinny Legs is a nonnegotiable must when you visit St. John. Its vibe captures the island perfectly. This divey place is very no-fuss, casual, and just a cool place to hang out with a drink and a burger.
In fact, burgers make up the majority of what they have on their menu, along with some other sandwich options. I always go for the blue cheese burger with blackening seasoning and crispy bacon on top. Pair this with a painkiller, and you'll know exactly what Jimmy Buffett was singing about. Finish off your meal with their perfectly tart key lime pie – arguably the best on the island.
Skinny Legs features live music on Wednesday, Friday and Saturday, so it's fun to visit during one of those times.
Rhumb Lines
For those familiar with St. John, you may recall that Rhumb Lines used to be in Cruz Bay. It has taken over the former location of it's sister restaurant, Indigo Grill, and now resides in Coral Bay. They do accept reservations, so I recommend calling ahead.
The decor and menu are both inspired by the South Pacific region, which brings something unique to the Coral Bay food scene. The Rhumb Lines menu is most known for its pad thai, though I also love the little spring rolls and snacks from their "Pupu Portions".
Finally, make sure you save room for their peanut butter chocolate pie. It's so ridiculously good! Basically like creamy peanut butter cup chocolate heaven.
Lime Out
Related to the owners of The Lime Inn in Cruz Bay, Lime Out brought the new concept of a floating taco bar to St. John. It was actually quite a hit since it started docking in Hansen Bay in spring of 2019, creating a fun opportunity to boat or kayak out to lunch on the water.
Lime Out has since relocated to Coral Bay due to environmental concerns about the local ecosystem. As this harbor gets a lot of boat traffic, it is not safe to paddle or swim out on your own. Therefore, you can now only access Lime Out by boat. This is still a very fun place to hang out, either on their bar or on one of several floating rafts.
Salty Mongoose Pizza & Rum Bar
Salty Mongoose is one of the newest restaurants in Coral Bay, having opened in August 2020. It's located in a delightful waterfront spot, and has views of Coral Bay across the street. The dining and bar area is entirely open air, and has one of the most casual vibes of all the Coral Bay restaurants, behind only those of Skinny Legs.
The specialty at Salty Mongoose is definitely their delicious pizzas, and they also make fantastic drinks, like my spicy margarita. When I visited, I loved my personalized small pizza with sun dried tomatoes, prosciutto, and basil. Even while visiting alone, Salty Mongoose was so fun, so I cannot wait to introduce this place to my husband.
---
More Great Coral Bay Options
Pizzabar in Paradise
If you are in the mood for pizza, this place will definitely hit the spot. Just note that their limited seats fill up fast and the tables don't move very quickly. If you're short on time or just not feeling patient, I definitely recommend ordering pizza ahead for pick up. Just call early in the evening, as supplies often run out!
Wok on the Beach
For a change of pace, why not stop in for some Pan-Asian cuisine during your St. John trip? There is plenty of open air seating and atmosphere to enjoy, as well as views of Coral Bay across the street. The menu includes various Asian-inspired tapas, as well as larger dishes like Thai green curry and fried rice.
---
Restaurants in Cruz Bay
There are so many restaurants in Cruz Bay, and they may all seem to run together. The trick is to find the ones that stand out from the rest. Below, I've described my favorites, but I'll name a few more places where you also can't go wrong.
High Tide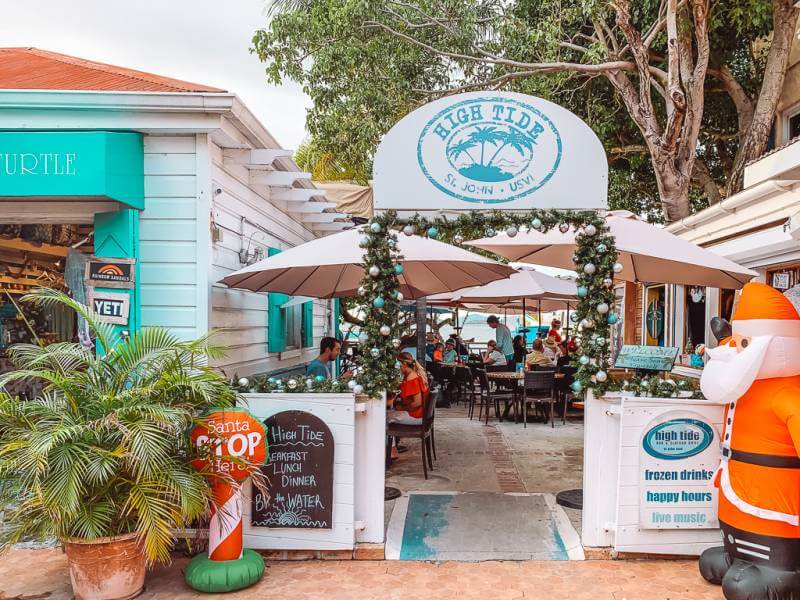 One of my favorite things to do in St. John is spend an afternoon at a beach bar. High Tide is a bar and grille located right on the water, and you can even walk through the sand to get there. This is usually our first stop upon arriving in St. John, as it's steps away from the ferry dock.
I like both the painkillers and bushwackers here. I've eaten a variety of choices off their casual menu, and have never been disappointed. Most recently, I tried the conch fritters and Brie-L-T, and loved both.
The Longboard
The Longboard has become hands-down my favorite restaurant in Cruz Bay, with its modern, stylish space, fun surfing theme, and incredible sushi bowls. Even though it's only been since the hurricanes that I've come to this restaurant, The Longboard has now become a must-visit for me on every trip.
This restaurant has great atmosphere, being open air with a laid-back beach club feel, even if it is a tad small. The Longboard also has a wonderful drink and food menu, with very tasty items like tacos and ahi tuna bowls. If you are trying to save money, definitely visit during happy hour from 3 p.m. to 6 p.m., as you can get their special frozen painkillers for only $7.
Fun Fact
The day before Hurricane Irma hit the island, the owner of The Longboard flew to St. John so he could provide meals during the aftermath. Thanks to a partnership with the Red Cross, The Longboard served thousands of free meals to the public every day for an entire month. This generous act helped put them on the top of my list to visit upon returning to St. John.
Cruz Bay Landing
One of our great traditions before leaving St. John is to get some breakfast on our last day. It's kind of like a last hurrah before we fly back to reality. Cruz Bay Landing is an ideal option for this, as it is located very close to the ferry dock.
I have found through the years that there aren't very many places open for breakfast on St. John. As a breakfast lover, this is a very sad fact for me. However, fellow brekkie lovers, Cruz Bay Landing has our backs, as it is open from 7:00am to 9:00pm every single day. They even have a specialty coffee bar for all of us cappuccino and latte drinkers.
The Lime Inn
The Lime Inn is the perfect place to go for dinner if you want a tasty menu with a fun atmosphere. Their theme is Caribbean with a Puerto Rican twist, which is where their chef originates from.
One of The Lime Inn's specialties is their Clam Chowda', which we admittedly have not tried. However, we did love the Wok'd stir fry dish and Cruzan Rum Ribs. They both made fantastic leftovers for lunch the next day too! My favorite cocktail at The Lime Inn is The Danger, which I was excited to see on Lime Out's menu as well.
Rum Hut
Rum Hut has become one of my favorite go-to restaurants in Cruz Bay. My husband and I found it by happy accident when we were too hungry to wait for a table at The Longboard.
This restaurant is part of the Wharfside Village complex, which is located just off the sand along Cruz Bay. Unlike many similar establishments in the area, the interior decor is very sleek and modern. They also have a high quality food menu that isn't too fancy, with deliciousness like crispy orange calamari, tuna tacos, and a variety of sliders.
A couple notes: their dishes tend to be smaller "tapas" portions. For example, I once ate the tuna tacos and calamari myself. Second, visit at the right time. Happy Hour runs daily from 3:30 to 5:30 pm, or come during sunset for amazing views.
St. John Brewers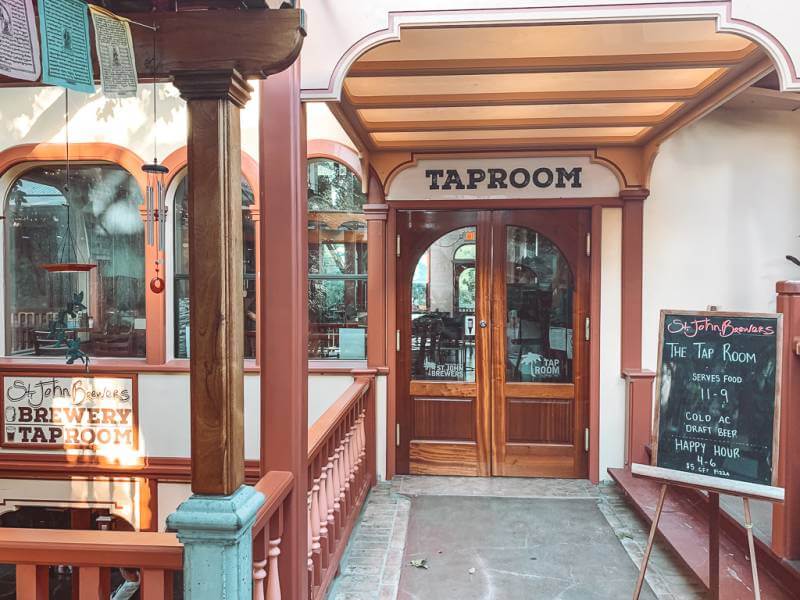 St. John Brewers, located in Cruz Bay's Mongoose Junction, is one of the best places my husband and I have tried in recent years. We'd heard of their beer before, and had drank it at other St. John establishments, but this time we decided to actually pay a visit to their taproom.
We were lured in by rumors of their happy hour, which includes $5 off dine-in pizza. St. John Brewers definitely did not disappoint, and we devoured their BBC pizza, baked chicken wings, and baked tropical poppers. We obviously also enjoyed their beers, which tasted better than ever, being brewed in small batches right on site.
Sun Dog Cafe
Sun Dog Cafe is essentially open every day from 9 am to 9 pm and serves breakfast, lunch, and dinner. That makes this place a pretty reliable option when you are in the mood for high quality snacks at the last minute. Some standouts include their tuna tacos and chicken roti. They also make a mean painkiller, though I always request mine with Pusser's Rum :).
This little open air spot is tucked away in a courtyard of Mongoose Junction. There are only about ten tables, so things stay pretty low key and casual. Note that they do not take reservations, but may make exceptions for large parties.
Morgan's Mango
Morgan's Mango is a great spot in Cruz Bay for a romantic date night or memorable meal with the family. The space is very ambient, being elegant, but also having a tropical feel, with their patio opening up towards the water. Prices run a little higher at Morgan's Mango than at other St. John restaurants, but its delicious menu features some great seafood dishes that make a visit totally worth it.
You should try to make a reservation to eat at Morgan's Mango at least 24 hours in advance. When we booked on the day of, the remaining available reservations were for 8:00 p.m. and later. Upon arrival, we actually had to wait about an hour to sit because our reserved table wasn't moving. Island time indeed…
Thankfully our food and wine made us very happy. The coconut panko encrusted fresh grouper was unreal, and my husband loved his creamy seafood paella. Note to self – don't write food-related blog posts while hungry.
---
More Great Cruz Bay Options
Margarita Phil's – You guessed it! Mexican food and margs!
Extra Virgin Bistro – If you are looking for something more ambient for a special occasion, Extra Virgin is a great upscale Mediterranean option. I have not personally been, but it comes highly recommended by locals.
La Tapa – (Closed while restaurant relocates to new beach location) I've been trying to eat here for years, as I've heard nothing but good things. Unfortunately, the stars have not yet aligned. That said, I think you should give it a try, and let me know how you like it!
---
St. John Restaurant Closures
With the devastating hurricanes of 2017 and now the pandemic, St. John businesses have repeatedly faced challenging times. Below is where I list notable restaurant closures from the past year:
Aqua Bistro?? To be honest, I can't get a good read on this Coral Bay restaurant's status. It closed during the pandemic, and many people thought it was done. Then it reopened in early 2021, but transitioned to takeout only in July 2021. Currently, it is closed for the season but has not given a reopening date.
As always, I'll keep you posted on further restaurant updates, as things are always changing on St. John.
• • •
I'm sure you must be so hungry after reading about all the best restaurants in St. John USVI. I know I'm going to be dreaming about eating some tacos and conch fritters on the beach tonight!
Which of these wonderful St. John restaurants are you looking forward to checking out?