This post may contain affiliate links, meaning I receive a small commission if you click, at no additional cost to you.
Charleston is seriously one of the most romantic places I've ever visited. From the signature palmetto trees to the gas lit lanes and hidden alleyways, it's clear why so many people choose Charleston for their honeymoon and anniversary destination. This old city is full to the brim with pastel-colored historical homes, cheerful local shops, and charming cobblestone paths that are perfect for wandering hand in hand. There is certainly no shortage of romantic things to do in lovely Charleston, SC.
I have come to love Charleston after two dedicated visits with my husband that I certainly hope will not be our last. Our first time in Charleston was a 12 hour road trip from Ohio, with the goal of just getting away somewhere (anywhere!) South. Being very new to trip planning, we stumbled our way through a somewhat disorganized but overall successful experience.
Since that first trip to Charleston, I've been dying to go back.
Four years later it finally happened, thanks to Frontier for adding a direct flight from Ohio. Can't say no to a $120 flight! On this visit, the primary goal was having some quality time together after a busy season of work for me. We focused more on digging deeper into the romantic side of Charleston. This included nice meals, plenty of long walks, and beautiful scenery. It was the perfect way to relax and unwind after a grueling start to fall.
After my amazing experiences, I can guarantee that you will love Charleston for an intimate escape with your loved one. This city has the perfect setup for romance, and you'll be hard pressed to find a house without charm or a street with no history or character. In this city, everything has a story and a past to explore. So without further delay, here are the most romantic things to do during your trip to Charleston.
---
Romantic Things to Do in Charleston SC
#1 – Visit Charleston During a Romantic Time of Year
Any time of year can be romantic in Charleston, but certain seasons have especially more ambience than normal. These would be:
Fall for that welcome chill in the air and the smell of fireplaces burning in the evening.
Valentine's Day for amazing restaurants and charming B&B's in one of the most romantic cities in the USA.
Spring to welcome the warm weather as the flowers begin to bloom.
I've visited in both May and October, and experienced pleasant temperatures both times. I will say October was slighty cooler with more rain. Winter could be a great time to cozy up after chilly strolls through town, but skip the grueling heat and humidity of summer.
#2 – Stay at an Adorable Bed and Breakfast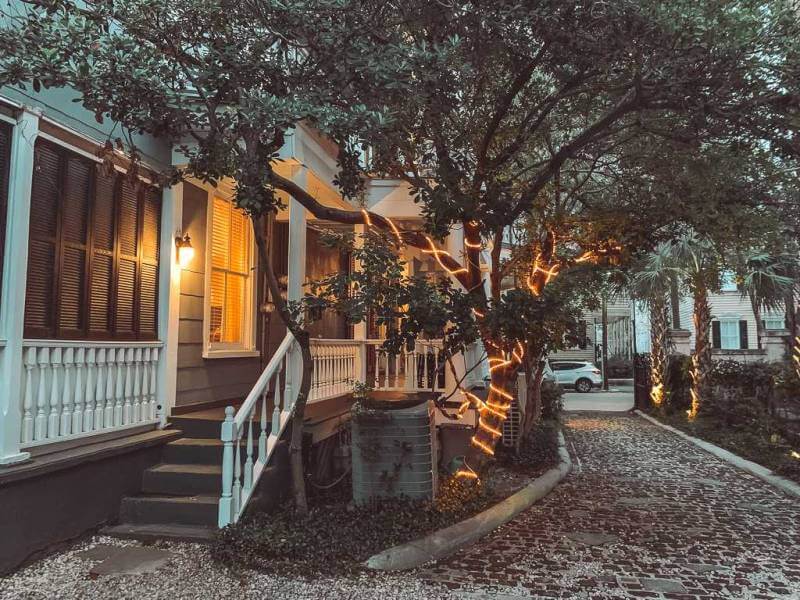 Nothing spells quality time and romance better than a stay at a historic B&B, and this is easily one of the most romantic things to do in Charleston, SC. There are plenty of these quaint little places to go around in Charleston, such as the 1837 Bed and Breakfast where we recently stayed. Their characteristic calm setting allows you to truly relax and focus on each other. You'll likely meet other couples staying there as well, which can definitely make your stay more interesting.
Don't worry about privacy though. At night you'll retreat to the comfort of your room after a day well spent exploring the city. It's easy to forget that anyone else is even staying there until you see them for breakfast the next morning.
#3 – Stroll Down Church Street
If you are looking for a leisurely stroll passed some of Charleston's most beautiful homes, head straight to Church Street. While this is definitely not the only pretty street in Charleston, it's a good starting point. From there, you can turn off onto quiet side streets and alleyways as you please.
As you walk past this pastel-colored gorgeousness, don't forget to pause and read some of the plaques denoting famous residents and house guests. You may also notice huge, sometimes decorative bolts in the sides of the houses. You can actually see it in the cross on the building pictured above. These were put in after a major earthquake hit the city in 1886 to add extra support to the structures.
Fun Fact
You may also be curious what these homes are made of. Here's a hint – it's not stone or poured concrete. The material you see is largely locally sourced (often slave-made) brick that has been covered in stucco. You'll see many buildings where the stucco is beginning to peel away from the brick, creating a gorgeous patina.
#4 – Walk the Waterfront
On a sunny day, walking along Charleston's waterfront is a very romantic thing to do. The mild weather year-round means the waterfront is almost always an inviting place to be. Plus, as is the theme in Charleston, there are gorgeous old homes with stunning facades to admire.
A great place to start would be the Waterfront Park to E Bay Street, with a quick stop to see the famous Rainbow Row. From there, continue walking down E Bay Street along the water towards The Battery. The walk offers great views of the Cooper River with Fort Sumter in the distance, as well as stately waterfront mansions.
#5 – Visit the Charleston Pineapple Fountain
The Pineapple Fountain is a landmark in Charleston, and a beautiful place for a photo op. Just head toward the water down Victoria Street to Vendue Range, and make a right into the Waterfront Park. You'll hear it before you see it so just keep going.
A short distance ahead, you will see the Fountain surrounded by low hedges, with maybe a photographer or two near it. See if someone will take your picture, as this is the perfect backdrop for a photo you'll definitely want to frame when you get home.
#6 – Dine at a Romantic Restaurant in Charleston
Charleston SC has an awesome food scene, and one of the most romantic things to do is making a reservation for one or two of these popular places. Some of the most famous dinner choices for a romantic meal in Charleston include:
Circa 1886: On the same property as the historic Wentworth Mansion. Has a very luxury feel with high quality ingredients and very attentive service. My husband and I had an amazing experience here during our first visit.
Husk: Perhaps the most famous and characteristic high-end restaurant in Charleston. It's located in the building of what looks like a historic Charleston home, complete with garden and double decker porch. It has the charm and lowlit ambience you desire on an intimate date night, with a menu full of sophisticated takes on Southern staples. Noteable menu items include corn bread, pimento cheese crackers, catfish, and duck.
Fig: I have not made it to Fig yet, but it is definitely one of the most popular restaurants in Charleston and a favorite of visitors and locals alike. My husband and I did speak to an individual who went to both Fig and Husk and preferred Fig. Give them a try, and decide for yourself!
R Kitchen: For a very intimate setting shared with a handful of other people, I very highly recommend R Kitchen. It's true that it won't be just you and your significant other dining together, but it's still an awesome experience to share. Basically, the set up at R Kitchen is paying a set $40 per person for a five course meal. The menu changes every single day, and you are at the whim of whatever the chef feels like cooking. It's a great time, and also allows you to meet some other couples.
#7 – Size Up the Angel Oak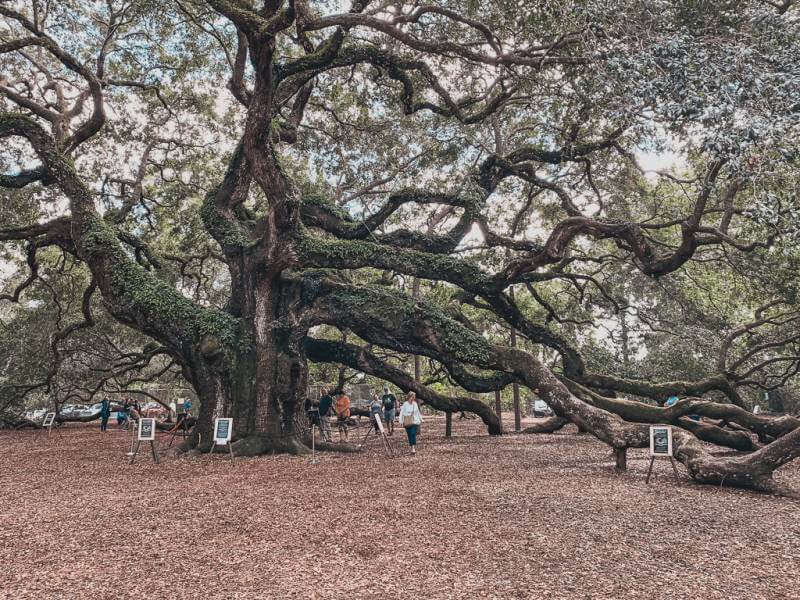 If there were the 7 Wonders of the United States, I think the Angel Oak would be one of them. I mean, how many trees do you know of that live to 400 years old? As in, witnessed Native American tribes first interacting with English settlers, followed by wars, the birth of a nation, earthquakes, hurricanes, more wars, etc.? Oh, if trees could talk!
That is why I suggest renting a car and driving 20 minutes outside of downtown Charleston to see the iconic Angel Oak. It's so worth it.
The beautiful Angel Oak is unlike anything I've ever seen, with crazy thick long limbs stretching out in all directions. It looks like something from a fairy tale or story book, and will probably take your breath away. Don't forget to get a picture together while you're there with as much of the tree in the background as will fit!
#8 – Relax on the Beach
Lounging on the beach and listening to the waves roll in will never not be a romantic way to spend a day in Charleston, SC. While downtown Charleston is located on the Cooper and Ashley Rivers and isn't exactly beach front, some excellent beaches are not very far away. Plus, Charleston's warm climate means perfect beach weather for a large portion of the year. Here are a couple within 20-30 minutes to check out:
Folly Beach – 30 minutes southeast of downtown Charleston
Isle of Palms – 35 minutes northeast of downtown Charleston
Sullivan's Island – 20 minutes from downtown Charleston (just a bit south of the Isle of Palms). We actually stopped here to visit The Obstinate Daughter for brunch. Such yummy food, followed by a short walk down to the water.
#9 – Take a Romantic Carriage Ride through Charleston, SC
Carriage rides are a very popular way to see Charleston, and you can find them all over the main historic district. The beautiful old homes and buildings are definitely a romantic sight to see, and doing so in a horse-drawn carriage really amps up the ambiance. A morning or evening carriage ride next to your significant other would definitely be something to remember.
Note
Carriage tours tend to be a bit controversial, as far as whether the horses are ethically treated. I've never taken a tour and am no expert on this at all, so just use your best judgement if this is something you'd like to do.
#10 – Stroll Past Charming Shops and Galleries
Take some time to slow down and wander in and out of Charleston's many shops and galleries. King Street, or Charleston's main shopping district, is filled with boutique after boutique. You'll see a lot of chains you could find anywhere, but there are some unique local shops sprinkled in as well.
In a small square between Market St. and Broad St., you can find a diverse range of galleries to check out. I highly recommend exploring this beautiful area. This is where we stumbled upon a wonderful antique map gallery, and of course I couldn't come out of there empty handed!
One more store you should visit for a unique momento of Charleston is Indigo on Vendue Range. This store was full of so many pretty things, like metal art, stone coasters, and clothing. I really had to control myself in there, so as to not walk out with more than our one carry-on could handle!
#11 – Have Drinks with a View of the Skyline
Visit The Rooftop right above the Vendue Boutique Hotel. It's a chic rooftop bar with a great selection of cocktails and appetizers. The best part is that it offers views over Charleston, where you can pick out all the steeples towering above the other buildings.
#12 – Explore a Gorgeous Historic Charleston Home
After being teased by all the lovely Charleston homes, why not take a peak inside one of them? There are many options for homes that are also museums, with one of the most popular being the Nathaniel Russell House and Aiken-Rhett House combo ticket. Pay one price, and you have access to both houses for a period of six months. That means you can visit one home one day, and the second home the next day. You'll want to split them up, as they are not close to each other at all.
Another great option for a home you can visit is the Heyward-Washington House, where George Washington stayed during his visit to Charleston in 1791. Or if you are visiting in October, you can take advantage of the Preservation Society of Charleston's exclusive House and Garden Tours. This annual event allows you to tour certain private homes that would otherwise be closed off to the public.
#13 – Do a Spooky Tour
Charleston is a very old city, so obviously they've got a ghost or two. Even on our historic Charleston walking tour, which was not ghost themed, our guide still felt the need to point out which houses were haunted.
While a haunted tour might not seem romantic on the surface, a spooky atmosphere will have you huddling close together. Then again, if you and your significant other share a love of creepy stuff, maybe it will be romantic? Everybody's different!
Want to feel better about yourself? Learn about how I bailed on the Old City Jail tour here!
#14 – Leave Room for Silliness and Spontanaeity
Don't forget to be a little adventurous together, and get off the beaten path. Try things you've never tried, and take a few risks. The act of traveling together in itself is an amazing thing to do as a couple. Some of the laughs along the way are the things you remember the most!
• • •
Are you feeling the romance in the air yet? I know I am, and I'll be back in this wonderful city as soon as I can book my next cheap plane ticket. If you are headed down to the Holy City soon for a honeymoon, anniversary, etc., you now have plenty of options for romantic things to do in Charleston, SC. In fact, these will overflow your itinerary, so pick a couple and save the rest of your time for whimsical explorations with your favorite person.