This post may contain affiliate links, meaning if you buy or book through one of these links, I may earn a small commission .
Have you always wondered how much it would cost for a trip to France? While it's not exactly the cheapest country, especially in the city of Paris, there are ways to stretch your money and have the trip of your dreams.
Admittedly, the one week trip to Bordeaux and Paris I am about to share with you below was a pricey one! It was my third trip to France and my husband's second, and we wanted to level up our experience from our initial 2019 Paris trip. We indulged in a few things we normally wouldn't, like a case of wine and a view of Sacre Coeur from our hotel room (no regrets).
In each category below I am going to share everything we spent, areas where we could have saved, or why a certain splurge was worth it. With that said, here is what our early May France trip really cost.
---
Here is our actual France Trip Cost (in USD):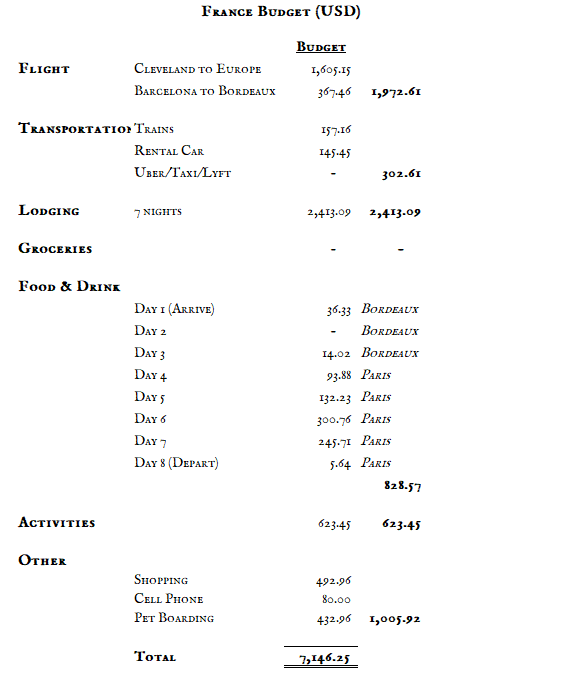 The above shows what my husband and I actually spent while frolicking around Paris and Bordeaux for one week. Our budget was certainly not on a shoe-string and leaned a little closer to luxury this time (though could definitely have been more so!). We enjoyed splurging in some areas, while saving in other areas.
There are many factors that will make our actual expenses higher or lower than yours will be, which I am discussing below. For each category, I will suggest ways to reduce costs, as well as tell you what splurges are worth it. After all, you may have dreamed of visiting France your whole life, so you have to live it up where you can!
Travel Savvy Tip
Don't look at this budget as a lump sum! That's the quickest way to get intimidated and assume that strolling Paris's Champs-Élysées is unattainable. The truth is, you won't pay the full amount at once. You'll buy your flight, lodging, and rental car right away, and then likely pay nothing for a few months.
Once it gets closer to your trip, you'll start looking at tours you may want to do, as well as make restaurant reservations. When you get back home from your trip, you'll pay off any remaining vacay expenses you've incurred.
Breaking it into chunks like this is a much more approachable way to afford the cost of a trip to France!
---
France Trip Cost Breakdown:
Flight
$1,972.61
To reach Bordeaux, my husband and I took two flights. This is because we first spent one week in Barcelona for his business trip before flying to Bordeaux the next Saturday. After our one week in France, Aaron had a few more business days in Belgium.
Here is the breakdown of the $1,972.61:
Round trip flight to Europe (Cleveland to Barcelona, Brussels to Cleveland): $1,605.15
One way flight from Barcelona to Bordeaux: $367.46
The round trip flight to Europe is for only me in economy (Aaron's company covered his flight). Tickets to Europe generally running high for a May trip, but that's pretty normal going into the warmer months. I paid around the same price for a round trip flight to Paris in July of 2022.
Additionally, flying out of Cleveland, Ohio can cost more than other cities. We do not have a direct flight to Paris, so we often pay higher prices for a connection. Plus, due to Aaron's work assignment, we could not be flexible with our dates, which is one of the best ways to save money on plane tickets.
To find the best fares, vigilantly monitor flights prices on Google Flights or Skyscanner around the season you are planning to travel. Solo travelers should budget around $750-$1,500 total for airfare; everyone should read the below tips to avoid overpaying for flights:
Be flexible with your travel days, as weekend flights can be crazy expensive. Play around with searching different departure and arrival days, and you'll be amazed what a difference that can make.
Travel during the low season (November through March), when there is an overall drop in prices.
Last but not least, the tip that has helped me the most: Sign up for a credit card with travel rewards points. We've gotten countless free flights thanks to our cards, simply due to points earned on every day purchases. We've had great experiences using both the Capital One Venture and the Chase Sapphire Reserve.
---
Transportation
$157.16
Paris's bigger cities, like Paris and Bordeaux, are well connected by train. Within Paris, using the metro to get around is cheap and saves your legs. France does have ride sharing options as well like Uber, although we never needed to use it because the metro or walking gets you everywhere.
If you're a little uncomfortable with the thought of public transportation, have nothing to fear. With clearly marked signs and maps in all stations and on trains, as well as the accuracy of Google Maps, the Metro is incredibly easy to figure out. The worst that happens is you have to get off and head back in the other direction.
A single metro ticket (called a T+ ticket) costs €2.10 book, while 10 metro tickets cost €19.10. Aaron and I each bought ten tickets (total of twenty), and that was enough for five days in Paris. Airport train transfers between Charles de Gaulle Airport and Paris's RER B stations are a bit pricier at €11.45 a person. All can be bought at machines at any metro or RER station.
To get between Paris and Bordeaux, Aaron and I opted for an easy 2.5-hour train ride.
---
Rental Car
$145.45
In Paris, you do not need a rental car to get around. Even if you leave Paris, there are trains and buses that can take you all over, so you still may not need drive in France.
The Bordeaux wine region is an exception where you will need a car. The area is full of small villages with beautiful chateaux, but they are not easily reached by public transportation.
I recommend taking the train from Bordeaux like we did and picking up your rental car on arrival. For a one day rental, we paid about $145.45 for a small SUV. We did not need the car longer than that because we were fortunate to meet up with friends who were able to drive us.
Don't forget to consider these additional rental car expenses:
Before returning any rental car, you will need to fill the tank back up. We did not need to fill up, as our friends offered to drive and we returned our car.
Some places may require you to pay for parking.
---
Lodging
$2,413.09
Lodging options in Paris are abundant, though finding chic, affordable, and well-located ones can be tricky. The further away you are from the main tourist sights, the better for finding lower prices.
On our first visit, Aaron and I stayed at this cute Airbnb in the Marais neighborhood. However, I've since started to avoid using Airbnb in big cities, since the company often has an adverse effect on housing prices for locals. That said, we still use the platform in rural or less touristed cities, where it's less of an issue.
Thankfully, over the past couple years I've found several hotels I've loved within a reasonable budget. Keep in mind that even nice hotels will often have tight quarters. Be ready for tiny elevators and narrow hallways.
Here is what we paid for lodging in both Paris and Bordeaux:
Paris – Grand Pigalle (awesome views, close to Montmartre) – $1,717.63
Bordeaux (Libourne) – spacious Airbnb with cute patio – $695.46
Here are a few places I stayed last year when I traveled solo in Paris:
Also Read: The Perfect 2 Days in Paris Itinerary
---
Groceries
$0
Hot take: the food offerings in Paris are much too delicious to justify eating in during your stay. Okay, okay. I recognize that some of you may opt for an Airbnb in order to have a kitchen where you can cook your own meals. Fair enough.
Aaron and I chose to eat out during our five days in Paris and spent nothing on groceries.
---
Food & Drink
$828.57
Food and drink is where you could let the cost of a trip to France get away from you. As you can tell in our budget, Aaron and I had some really nice dinners while in Paris. We spent next to nothing in Bordeaux because our friends covered the food since we paid for the Airbnb.
We spent the least during breakfast and lunch, which mainly consisted of pain au chocolat, coffee, and sandwiches. Our high dinner prices were usually augmented by our desire for delicious French wine.
Generally, I would advise budgeting at lease $100 a day for two people to eat in Paris. Minimal drinking helps to keep your spending down. If you're being more frugal, maybe have just one nice night out and eat more cheaply on the other days. Restaurants serving items like crepes or Thai food tend to be easier on the wallet.
---
Activities
$623.45
While in France, you'll want to save room in your budget for experiences. This is especially true in Paris, where there are so many world class sights and museums!
While admission fees for the various things available can make the cost of a trip to France more expensive, it is possible to avoid overspending. The key is to see the most important couple places on your bucket list, and then mix in some free things.
Also, look for ways to save on the various sights. For example, in Paris it may be more cost effective to purchase the Paris Museum Pass, where you pay one price for access to several sights over so many days. The Eiffel Tower is not covered by the pass, but if you opt to climb the stairs to the 2nd floor, rather than ride the elevator, it'll save you about a third of the cost.
We were able to spend only a little over $120 on activities during our 2019 two-day trip (adjusted for inflation):
This year we obviously spent a bit more, mostly because we wanted to attend a show at the Moulin Rouge. Notably, we didn't spend anything exploring cities like Bordeaux or Saint-Émilion. Here's what the $623.45 entails:
Also Read: How to Climb the Eiffel Tower While Scared of Heights
Free Things to do in Paris
Above, I mentioned that it is very smart to weave some free things into your itinerary to keep the cost of a trip to France as low as possible. Here are just a few ways to see incredible sights, but spend zero dollars doing so:
Take a free Rick Steves walking tour using his Audio Europe App
Window shop on the Champs-Élysées
Stroll along the Seine River
Visit Place du Trocadéro for beautiful fountains with Eiffel Tower views in the background
Check out the iconic pyramid entrance to the Louvre
Visit the Arc de Triomphe for a photo op
Walk to Île de la Cité or Île Saint-Louis over one of the bridges crossing the Seine
Visit the Tuileries Gardens or Luxembourg Gardens
View Notre-Dame from the outside (you cannot go inside since the fire)
Watch the Eiffel Tower glitter after sunset, every hour on the hour
Take this charming walking route through Montmartre
Visit Jim Morrison's grave (among notable others) at Pere Lachaise Cemetery
---
France Trip Cost: Miscellaneous Expenses
Shopping: $492.96 From fashion to wine, there is amazing shopping to be done in France! Just be careful that you don't blow your budget! $429.73 of this was spent on nice wine from Pauillac, Bordeaux.
Cell Phone: $80 You may need an international plan to make sure your phone works during your trip. Under Verizon, I pay $10 for every day I use cellular data abroad. It's a bit pricey, but worth it for how often I rely on my phone for Google Maps and last minute restaurant searches. Aaron keeps his phone on airplane mode so that we only pay for my phone.
Pet Boarding: $432.96 While it's ideal to have a friend or family member watch your pet for free, that isn't always possible. When Aaron and I travel together, we always pay to board our dog in a cozy little "suite" at his vet office.
• • •
There you have it – the cost to visit France based on seven days spent in Paris and Bordeaux. While spending will vary from person to person, this is a good overall idea of what prices will look like for every aspect of your trip. Whether you'd like to skimp or do it up a little more, this post is the perfect place to start when planning your France budget.