This post may contain affiliate links, meaning if you buy or book through one of these links, I may earn a small commission .
Are you taking a winter trip to Iceland this year, and looking for some unique seasonal activities to do? Then you'll want to save space in your itinerary to see the most incredible blue ice cave in Iceland. As ice cave tours only run between November and March, you'll be visiting at the perfect time.
Of the various natural and man-made ice caves in Iceland, the naturally formed Crystal Ice Cave in the Vatnajokull glacier is said to be the bluest. This spectacular ice cave is very popular with tourists and changes shape daily, guaranteeing a unique experience to each visitor. However, doing this tour requires first making the five-hour drive from Reykjavik along Iceland's South Coast.
I'll admit, I was a bit apprehensive about the road trip from Reykjavik to tour the mesmerizingly blue Crystal Ice Cave. Winter in Iceland is not exactly known for gorgeous weather, and during five hours of driving you never know what conditions will hit. I was also nervous about the ice cave tour itself because I was afraid of being claustrophobic and not enjoying myself.
Ultimately, we did make this road trip and the experience was better than I could've imagined. However, if you wish to make this trip as well, there are a few different options and logistical details to consider. Don't worry, though. By the end of this post you'll have all the info you need to have the ultimate blue ice cave experience in Iceland.
Shall we?
---
How to See the Most Brilliant Blue Ice Cave in Iceland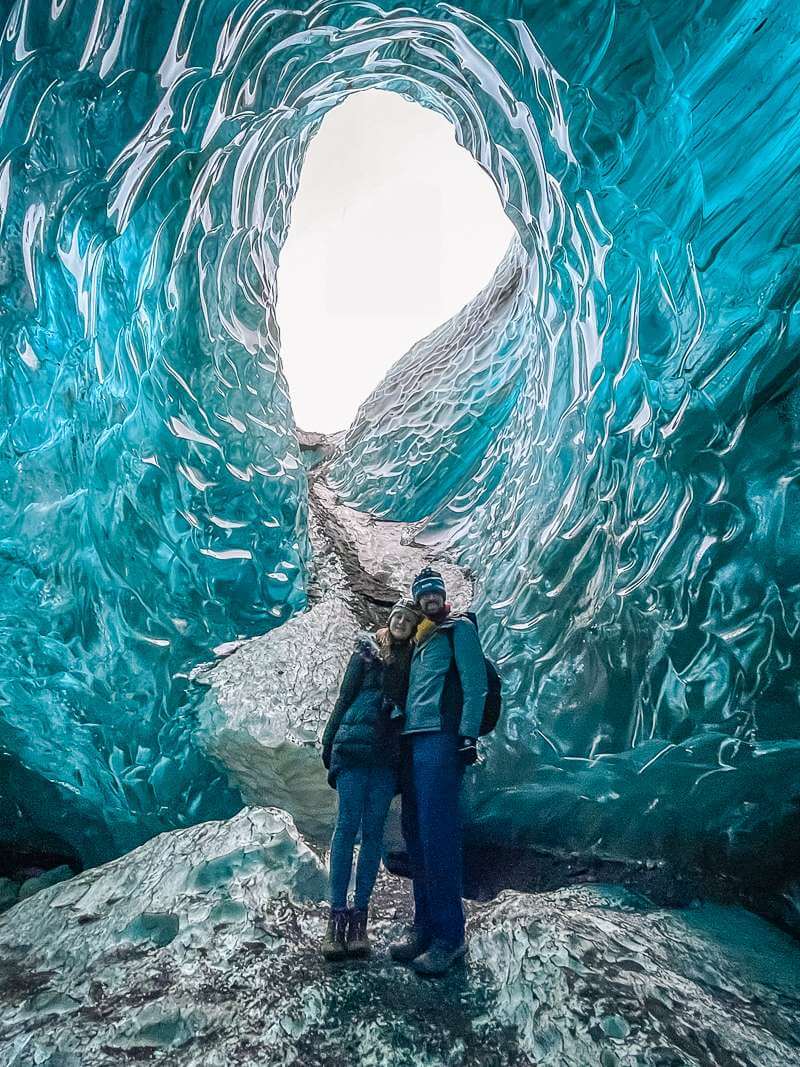 Ready to see the brightest blue ice cave in Iceland? Here is everything you need to know about seeing the Crystal Ice Cave in the Vatnajokull glacier.
Self-Drive or Bus Tour?
It was a tough call for us when deciding whether to drive our own rental car or hire a tour to take us across the South Coast for our blue ice cave tour. Below are the factors we considered when making our choice.
Self-Drive
Generally, the more cost effective option is simply renting a car to drive yourself. A tour including transportation and lodging is much pricier than one that simply includes the ice cave tour itself.
As my husband and I were already renting a car for the duration of our 4 days in Iceland, we didn't have much of an appetite to pay for the more expensive tour. Plus, we like having the flexibility to come and go as we please and stop whenever we want, rather than traveling on a pre-set schedule.
If you'd like to drive yourself, I highly recommend checking Iceland's road conditions before heading out. The road along the South Coast is generally well-maintained, but weather in Iceland can change at a moment's notice and become slippery, windy, or have snow or fog that impairs visibility.
Speaking of visibility, keep in mind that traveling during winter means there will be more darkness. During December and January, there could be as little as four to five hours of daylight. To avoid driving in darkness, I highly recommend spreading this ice cave excursion over two days, so you can do most of your driving in daylight.
We ultimately chose to self-drive, after checking this link to find that most of the route to our destination was green, or "easily passable", with just a small section being blue, or "slippery". However, keep in mind that we are from northeast Ohio, and are very used to driving in wintery conditions.
Join a Tour
There are also many instances where it could be wiser to do a 2-day tour from Reykjavik. You might prefer this if:
This will be your only extended day trip from Reykjavik, or you otherwise don't wish to rent a car.
You are renting a car, but aren't comfortable driving five hours from Reykjavik in Iceland's unpredictable weather conditions.
The weather forecast in Iceland is looking really sketchy, and it's simply a safer idea to trust a local driver in a vehicle well-equipped to handle such conditions.
You are in Iceland during a time when there is very little daylight (as little as four to five hours), and you'd rather hire a local to drive in the darkness. I will say, the beginning of our drive was dark with thick fog, making it very hard to see much of anything at times.
If you are nervous about driving, then joining a tour will most likely make your trip more enjoyable by giving you some peace of mind. Even better, many tour operators incorporate breathtaking stops along the South Coast into their itineraries.
Picking a Blue Ice Cave Tour in Iceland
Unless you are an expert in ice caves, and most people aren't, then joining a tour is nonnegotiable. Conditions in ice caves change constantly and could be dangerous to those who don't know what they're doing.
It's also a bit tricky to even find this amazing blue ice cave in Iceland's rugged mountainous, glacier-covered landscape. Therefore, it's very helpful to let a guide handle the journey, part of which entails off-roading over bumpy terrain. The tour operator also provides the helmet and crampons that you'll need to stay safe while exploring the magical blue ice cave.
Most tours meet in the parking lot to the Jökulsárlón glacier lagoon before heading out. Here, you can grab coffee and head to the bathroom one last time. Take heed: there will be no more opportunities to use the bathroom for the duration of the tour.
Why is the ice blue?
Not all ice caves are blue. I mean, Elsa's ice castle was in the movie Frozen, but don't we usually expect ice to be white? How is it that the Crystal Ice Cave came to be blue?
The color is due to ice layers in the Vatnajokull glacier piling up over centuries. Eventually, the layers compress under their own weight, which squeezes any air bubbles out. This causes the ice crystals to enlarge and appear blue. The color can look even brighter the more light that is able to get inside. Science, y'all.
Choosing a Hotel
Logistically, it is very practical to stay in a hotel the night before your blue ice cave tour. Here are the reasons for this:
Early Tour: Many ice caves tours start around 9:30am. Therefore, it's easiest to start your day already on that side of the island.
Daylight: As previously mentioned, making the departing and return trip over two days allows you to minimize driving in the dark.
Winter Weather: Driving the day before the tour will help you to manage any surprise weather conditions that pop up. You'll have more time to slow down or stop if a storm hits, which reduces the risk of missing your tour the next morning.
South Coast Sights: You'll have more slack in your schedule to see some gorgeous waterfalls along Iceland's South Coast.
The best hotel to stay at near the Jökulsárlón glacier lagoon meeting point is Fosshotel Glacier Lagoon, about twenty minutes away. Our room was really cozy with big windows and comfy beds. I couldn't help but stare out our window into the darkness, in the hopes of glimpsing the northern lights (no luck). The hotel's restaurant also served a decent breakfast and dinner.
What to Expect During the Ice Cave Tour
Meet your group at the Jökulsárlón glacier lagoon around 9am, where you'll be guided into one of the many super jeeps lined up. The tour operator will provide you with a helmet and crampons (if needed). It then takes around an hour to reach the ice cave; thirty minutes of driving, followed by a thirty-minute hike.
The first fifteen minutes of the drive is on the road, but the second fifteen minutes is a super bumpy ride down a dirt path. The drive was a little rough, but it helped that our guide took some air out of the tires.
Eventually, we parked and set off on our thirty-minute hike. The path wasn't strenuous, but rather quite pleasant, being in the midst of mountain and glacier views. Conditions were mild the day of our hike, so crampons were not needed since the ground wasn't slippery.
Soon, we were at the entrance to the ice cave, where our guide stopped to discuss safety measures. Basically, we needed to avoid the small river running through the cave and listen to his warnings about slippery spots.
It's hard to hear your guide in the cave sometimes, so try to stay close to avoid missing any instructions. I definitely missed a warning about an icy patch, which resulted in me slipping and falling on my face.
Now for some magic. Upon entering the cave, you will likely be awestruck by all the thick blue ice around you. It's true – the ice in the cave really is a super vibrant blue color. Make sure you bring a camera to take lots of photos because this is not something you see every day. I felt like we were in Elsa's castle or some other fantasy fairy tale land.
As for my fears of being claustrophobic? The ice cave was actually quite spacious and open, so claustrophobia was a nonfactor for me. I was able to be fully present throughout the tour, which was ultimately a highlight of our Iceland trip. Total time spent exploring the cave was about an hour, before we made our way back the way we came.
• • •
If you are traveling to Iceland during winter, then you have to make time to tour a beautiful blue ice cave. Seeing the Crystal Ice Cave in the Vatnajokull glacier will take your experience over the top when you see its brilliant blue color. As is commonly the theme in Iceland, you'll believe you've stepped into another world.